Greenspeed Aero Folding Trike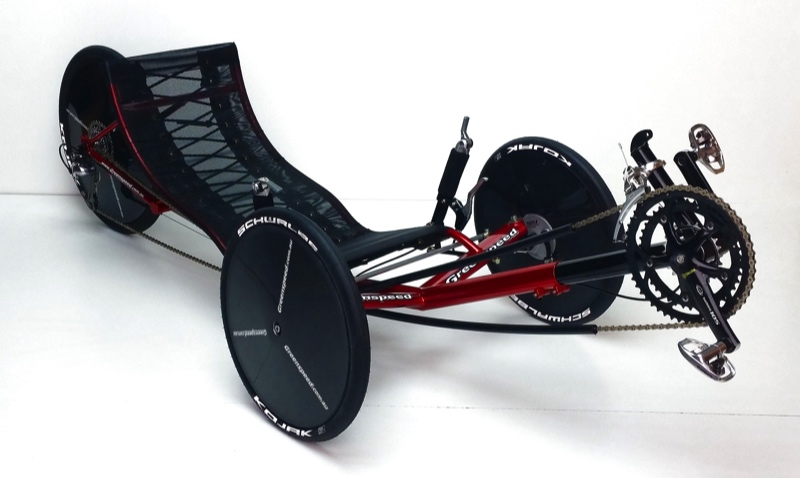 What Greenspeed say about the Aero:-



"At 20 mph, 80% of an ordinary bike rider's energy goes into pushing the air aside. This is what makes it so much harder to ride into a headwind, than a tailwind. On the Aero you'll LOVE headwinds! Because when you turn into a headwind on the Aero, you will leave the competition behind, if you haven't already.Even the cross member on the Aero is streamlined. This is because a streamlined tube has 1/10th the drag of a round tube! The more the seat is reclined, the smaller your frontal area is to the wind and the faster you go. The seat of the Aero is reclined at a low 20 degrees. Wind tunnel testing shows a large gain in speed when using wheel covers. Most bikes and trikes cannot use front wheel covers due to instability in cross winds. The Aero overcomes this and further reduces drag by using 16" front wheels with a 20" rear wheel.
To further reduce air drag, the Aero uses the joy stick steering that was first used on the SLR. This is linear action steering, allowing the hands and arms to be closer to the body, moving fore and aft, instead of moving sideways, where your arms catch more wind. The cranks are above the seat, so that the feet are within the frontal area for the body, reducing air drag. Our wind tunnel testing has shown that the exposed callipers on disk brakes produce more drag that drum brakes, where the drum is contained within the wheel. So the Aero uses special 90 mm drum brakes which have been reduced in overall width to fit within the wheel slim wheel covers. Finally, there is a new headrest available if needed. It has a single support strut, in line with the neck, instead of the two struts on previous headrests.
AERO TRIKE

STANDARD SPECIFICATIONS




16" Alloy rims with Stainless Steel Spokes and carbon fibre covers
20" Alloy rim with Stainless Steel spokes and carbon fibre covers
GreenSpeed Slicks 16" x 1½" & 20" x 1.5" - 40-349 & 40-406, 40 to 100psi
Shun SS-ZO-300 56/42/28 x 165mm
Shimano Dura Ace End 10 speed
GS Sturmey Archer 90mm drums
Carbon fibre wheel covers
Please note that the above are options with a complete trike. Some items may cost more if retrofitting is required.


Terms:
* We are constantly developing our trikes, and thus specifications are subject to change without notice, please ask for latest details.
* Sterling prices subject to exchange rate fluctuations.
* 50% deposit with order, balance due before delivery,
* Cheques payable to 'Westcountry Recumbents'