Glyde Around Britain



OK, so there is a plan...



To cycle around the Coast of Britain.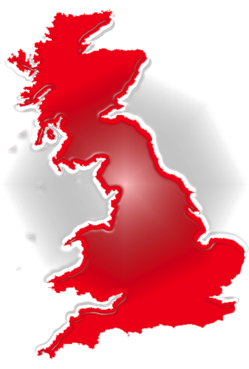 And now there is also
a blog
So how far is it?


Perhaps 4000 miles, maybe a little more.


The route and 'the rules'
.

I plan to travel clockwise (taking the coast side of the road in the UK) and I plan to at least take the most coastal A/B (primary & secondary) road where it is practical to cycle on it. If this route is a horrific motorway-style dual carriageway then either careful timing or a quieter route will be substituted. Ferries are fair game, as are bridges. Dead end roads may be omitted, unless they go to specific places of interest relevant to the route - for example Ardnamurchan Point (most Westerly part of British Isles), Cape Wrath (Scotland north west corner). Quieter back roads that are more coastal than the A/B road route may be used, but the plan is not to tour every industrial/housing estate but to include quieter coast routes when the opportunity presents itself. I'm currently planning on including the islands of Mull, Skye and Arran. Lindisfarne is rather special and probably also worth including if only to ride the tidal causeway again.


When?


April/May 2010. This is early Spring in the UK. Daytime temperatures are expected to average around 10-15degrees C with extremes between 0 and maybe 20. It is likely to be a showery time of year but before tourist season. This may be a particular issue in tourism-orientated areas like Cornwall where finding one-night summer campsite spots can be a real challenge.


So how long will it take?


Well, at 100 miles a day that is 40 days. Being able to clock up higher daily mileages will enable the ground to be covered faster but this has to be held in check by the requirement to cover that distance day-in-day-out for the duration of the expedition. A velomobile has been selected to help pick up the speeds when conditions are suitable. Whilst this is a heavier type of pedal cycle, experience with a Quest velomobile has shown me that I can expect average speeds higher than I have been able to achieve on either an unfaired trike or conventional upright touring bike. Higher speeds do not necessarily relate to just travelling faster, the alternative is to travel at the same speed but putting less effort in - gaining additional daily range through less fatigue.


So how much will it cost?


With Youth Hostels at around £15 per night and B&Bs at £25+ per night the costs will add up fast, so camping as and when practical is the cheaper option. That also adds flexibility as day rides are not constrained by the distance to the booked accommodation. North of the border 'wild camping' is free and legal, in England and Wales it is necessary to use official sites. We'll see how that goes...


So what is my charity?


I find it really annoying that for most people getting on a bike to cycle any distance has to be 'for charity'. I am doing this ride because it is there and as an objective to help me recover from a bout of illness following an RTA that has left me unable to leave the house alone for the last 6 months.


So you are riding lightweight and all the gear is in the van?


No, I'm riding unsupported. Everything I need is either on the trike or will be picked up en route. I'm contemplating having a few parcel drops along the way to update supplies of stuff that just won't be available from the local shops. Currently I'm planning this as a solo trip as with a new machine I don't know my expected daily mileage yet and there is the risk of potentially odd 'spring' weather but I'll be happy to chat with anyone considering coming along.


I plan to test my kit on series of hikes and weekend backpacking trips this summer, building up to cycling longer distances when the Glyde gets here. A full fairing should make winter training a more attractive proposition.


Equipment
:

Below is a list of the kit I've already bought or plan on buying for this trip. If you wish to pass comment please do so using the email link at the bottom of the page. I'll add more detail here as time goes by and I'll add a blog nearer departure time. This is a list of the equipment I've selected (and paid for - no sponsorship [yet!]) chosen for its suitability for a lightweight, high speed extended cycle camping expedition. Obviously for your own trips you might want to beef up the kit, not be so worried about keeping the weight down and have a little more space... I'd particularly recommend the VauDe Hogan as a cycling touring tent and it is the one tent I've kept over several seasons but I just couldn't resist the sub 1kg offering from Terra Nova for both the preparatory backpacking trips and for the expedition itself.


The ride: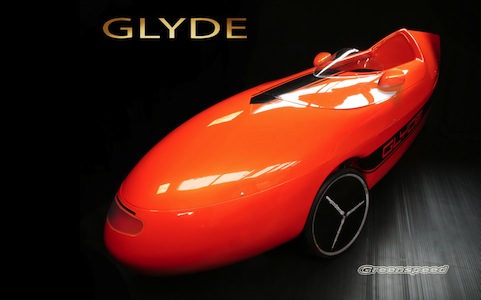 Greenspeed Glyde velomobile
, with optional
Schlumpf Mountain Drive
to allow shifting to low gear when stationary - maybe August 2009 delivery.
The machine is a recumbent trike - three wheels pedalled from a sitting position. Twin mechanical disc brakes provide the stopping power, the gearing I intend to use is a 9sp rear cassette, a mountain drive and twin chainings. The selection of rings will be fine tuned when the machine is delivered to tune the bottom end gear low enough to haul the machine up the steepest climbs when laiden yet still give enough top end gearing for some fast cruising when conditions allow.
The machine has a number of luggage options - I am currently working on the expectation of having around 30 litres of space to stow an Alpkit Gourdon ahead of each front wheel. With camping gear on one side and clothing on the other this leave the rear luggage compartment available for day-to-day food storage.

Accomodation:

Terra Nova Laser Competition
- sub 1kg one-man tent. Not their lightest offering but I was advised to go for this version as being slightly more resilient than the absolutely minimalist 'Photon'. Testing is to begin in the next few weeks.
Heavy duty polythene sheet to use as groundsheet - protects tent's built-in groundsheet from damage and ensures bottom of tent is clean and dry ready for packing the following day - to be cut to size and sacrificial - disposable if/when it gets damaged. Also to be used as worksheet for cycle/equipment repairs to prevent loss of small parts.
Accessories:

Alpkit 8g titanium 'Nails' pegs
- to provide a little more security than the 2g titanium pegs supplied with the Laser - set of 12 bought. Experimentation required to determine mix of pegs for 'real world' use.

Alpkit Pipedream 400 down sleeping bag
(good down to 0c).

Thermarest Prolite 3 sleeping mat
(already owned) with excellent lifetime guarantee, because of price I would first look at the
Alpkit Airic
if I was buying new.

Cooking: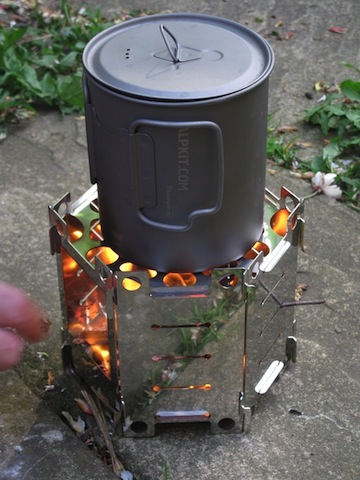 The Honey Stove
- wood burner (see photo above).

Alcohol (meths) stove.
MSR 'Pocket Rocket' gas stove
,

MSR Whisperlite International liquid fuel stove

I plan on experimenting with these this season to work out which I am happier living with on a trip. The home-made meths stove is ultralight and relatively safe. The gas stove has the advantage of being clean and odour free but is more difficult to get replacement fuel for. I have a pan cosy (made from the
Backpackinglight cosy kit
) that I'm hoping will help optimise fuel usage. The Whisperlite will run on petrol which is an easily available but smelly and more dangerous fuel.

Alpkit MyTiMug/MyTiPot/folding titanium cutlery
- with the pot being my main pan and the lid doubles as a frying pan, the mug (shown on The Honey Stove above) doubling up as a 2nd pan and snapwire knife, fork and spoon. The cutlery and Pocket Rocket all pack into the mug. Even packed like that the mug still weights less than my current twin-wall stainless steel mug. The mug then packs into the pot.

Light My Fire firesteel lighter
- modern all-weather alternative to carrying matches.

Food:

Lyons Coffee Perfection coffee bags
- these look like the promising solution to making 'real' coffee out in the field - they work fine at home, I'm planning on field tests on my next few hiking trips.

Luggage:

Alpkit 'Gourdon' bags
- great looking and well priced drybag with rucksack straps - currently testing both 20 and 30 litre versions.

Alpkit Airloc XT drybags
- keenly priced, particularly to keep down equipment safe and dry.

Alpkit Apollo II stuffsacks
- wonderfully priced minimalist stuffsacks just to keep everything together and easy to find.

The basic camping gear - rucksack, tent, sleeping bag, sleeping mat, cooking gear (including the Pocket Rocket & gas canister, not the Whisperlite) packed and ready to go comes in at around 3kg.


Hydration:

The Travel Tap water filter system
- allows use of otherwise dubious water supplies, eg. mountain streams, 'not drinking water' taps, etc, rather than having to carry heavy supplies of 'clean' water, sometimes meaning several days supply in remote areas or needing to buy expensive commercial bottled water. Water is frighteningly heavy stuff at a kilo per litre and 3 litres a day being minimum requirements....

Platypus folding water bottle
(30 grams) for bulk water storage, or for just for fetching and storing water on the campsite.

Clothing:

Alpkit 'Filet' down waistcoat
- to keep toasty when hopping off the velo, around the campsite or an additional layer in the sleeping bag if it is REALLY cold.

Regatta Sport Premier rowing shorts
- a bit of an experiment to be tested this season as I've not yet found recumbent specific shorts that I'm really happy with.

Gill i2 baselayer range
- double use as thermals and pajamas again for if it gets really cold.
M&S 'microskin' briefs - lightweight wicking & fast drying undies.
Socks - tbd - waiting on Alpkit's new CoolMax range to become available.

Navigation:

SatMap 10
- currently waiting on Mac software support before buying this device. (rechargeable from solar-powered USB charger)

Comms:

INQ1 mobile phone
- providing voice, text, email, facebook and internet access, when coverage allows of course! (rechargeable from solar-powered USB charger)


Suppliers:

Alpkit
(sleeping bag, pans, mug, cutlery, bags, jacket)

BackpackingLight
(Travel Tap, The Honey Stove)

Fanatic Sports & Leisure
(rowing shorts)

Greenspeed
(velomobile)

Ultralight Outdoor Gear
(tent, MSR Pocket Rocket)

Information:

The Outdoors Station
- Podcast - great for lightweight backpacking info.

The Backpackers Club
- new to me but their AGM/Show was a great opportunity to get a first look at much of the kit I've selected for my trip. I'm hoping to participate in club events this summer to get used to my new kit and to iron out problem areas in my kit selection.

Cyclists Touring Club
- for the extensive UK ferry list (available from the members-only area), and for 3rd party insurance included in membership.





Glyde Around Britain Blog

End content


End main content wrapper
Start Footer