Taunton to Bridgwater and Back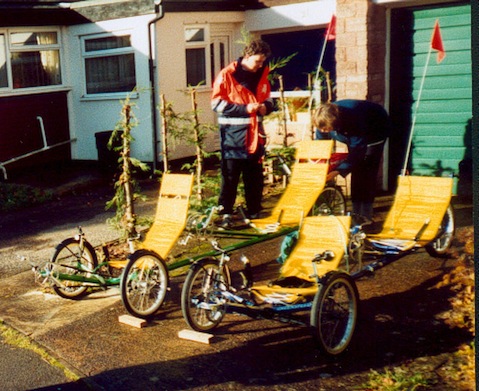 Rob, Carol, John and Siggy and a pair of tandems


On November 2nd 2000, the village of Bishop's Lydeard saw something that doesn't happen very often - two Greenspeed tandem trikes setting off for a ride together.

The day had come for John and Siggy to collect their Greenspeed tandem from us. As they were planning to ride it home, we decided to accompany them for the first stage of their journey, to offer Rob's technical expertise if required.

A few last minute adjustments to the new tandem, a brief stop at the local B&B to be photographed for the parish magazine and we were off up the lower slopes of Cothelstone Hill.

We were a bit concerned about the route, as there had been heavy rain for several days and Taunton town centre had nearly flooded the previous Monday. Since John and Siggy were planning to spend the night at Lower Godney, part of their route lay across the Somerset Levels and we hoped that swimming wouldn't be called for.

There was a fair bit of water about when we turned off toward Kingston St Mary and in one or two places the puddles were holding hands in the middle of the road, but so far it wasn't as bad as we had feared. Then we got to Kingston and the road started going up. To be sure, it wasn't nearly as bad as the climb up Cothelstone Hill, (which has three "arrow" climbs one after another and by the time you get to the third one you wish for a fourth arrow to put you out of your misery) but it was quite enough for someone like me who hadn't done nearly enough training over the summer. The last mile or so of the hill was a 15% gradient and we were very glad to see the cafe at the top. We were much less glad to see that it was closed.

So we set off again towards Bridgwater. The road undulated for a bit and then we started on a long descent and I got some quick lessons on the best way to use our newly fitted rear drag brake....

Eventually we reached Bridgwater and scuttled through the traffic to St John St Cycles where John and Siggy wanted to buy some odds and ends, and then we repaired to the pub a couple of doors down for a well-deserved cup of tea and baked potato each. At this point it began to rain. It always rains when Rob and I go to Bridgwater. I think it may be some sort of local byelaw.

Coming out of Bridgwater was fun as we had unwittingly chosen the day of Bridgwater Carnival for our trip and the streets were full of floats getting into position for the evening's festivities. We had to wait at one police-controlled crossing for a while and the policeman directing traffic seemed to find us more interesting than the floats. Finally we got out of the town and on to the moor roads. Luckily these were not nearly as waterlogged as we had feared and progress was good. Some excitement ensued as we were chased by a bus for a while, but we found a place where we could both pull in and he toddled along happily enough.

Not long after that we parted from John and Siggy, they pootled off towards Lower Godney, hoping it wasn't so low that it was underwater, and we turned towards Greinton and a different route back to Bishops Lydeard.

Just after we joined the main road outside Greinton, it started raining again, quite heavily. Fortunately the traffic was fairly light and most of the cars were well-behaved, but this was easily the least pleasant part of the ride as regards weather conditions. This was a shame as otherwise it would have been fun to ride along a wide, flat, well-surfaced road at a good speed after spending most of the day going uphill and wiggling down narrow lanes where lack of visibility and poor surfaces had kept our speed below potential.

The next hill came at Othery and was less evil than I remembered it, which came as a pleasant surprise. Then a long swoop down the other side and on to Burrowbridge, which is always further from Othery than last time....We crossed the bridge and turned left towards Stoke St Gregory ("He must be going out.") where we stopped for a chewy bar to reinforce the baked potato.

Through this very long narrow village and across the level crossing and then more pootling through the back lanes. When we got to Ham and Creech St Michael the aftereffects of the flooding were very much in evidence - sandbags everywhere and people cleaning up. The miniature suspension bridge in Ham had survived, which was just as well for the people who live in the house it leads to.

It was looking as though we'd only just get home before sunset. We always carry lights in case of poor conditions developing while we're out, but neither of us particularly enjoys riding in the dark if we can help it, so the next stop for provisions, at Monkton Heathfield, was brief and then we were off again, over familiar territory, towards Hestercombe House (headquarters of Somerset Fire Brigade and home to a splendid garden which has been and is being restored by enthusiasts) and then back on to the Kingston St Mary road we'd come out on that morning. The puddles seemed to have been on a rapid crash diet and were no longer spread completely across the road.

It was just getting dark as we got back to the village and pedalled wearily back to our house at last. Not a long ride as far as overall miles were concerned, but quite hilly and weather conditions could have been considerably better in the afternoon. Still, mud is supposed to be good for the skin, isn't it ?